the stars 星星
contemporary chinese avant-garde
LATE 1970s AND EARLY 1980s
Initiated by Huang Rui and cofounded by Ma Desheng, the Stars Art Group (Xing Xing 星星) was a foundational movement of the contemporary Chinese avant-garde active in the late 1970s and early 1980s. Mostly self-trained, the Stars championed individualism and freedom of expression both in their work and public activities. Taking personal experience and social issues as their subject matter, they pointedly diverged from state-sanctioned Socialist Realism. The group's members made history in 1979 when they defied government regulation and mounted an unofficial exhibition on the railings of the National Art Museum in Beijing.
The group's main leaders were Huang Rui, Ma Desheng, Wang Keping, Qu Lei Lei, and Yan Li. Members included Ai Weiwei, Bo Yun, Li Shuang, Mao Lizi, Shao Fei, Wang Luyan, Yang Yiping, Zhong Acheng(Ah Cheng), Zhang Hongtu, Zhang Wei, Zhao Gang and Zhu Jinshi.
The artworks of The Stars Art Group were born from the defiance of their youth. These avant-garde artists challenged the status quo to initiate free artistic expression in the post-Mao era. Their works were a voice of the future within a China that was on the verge of transformation.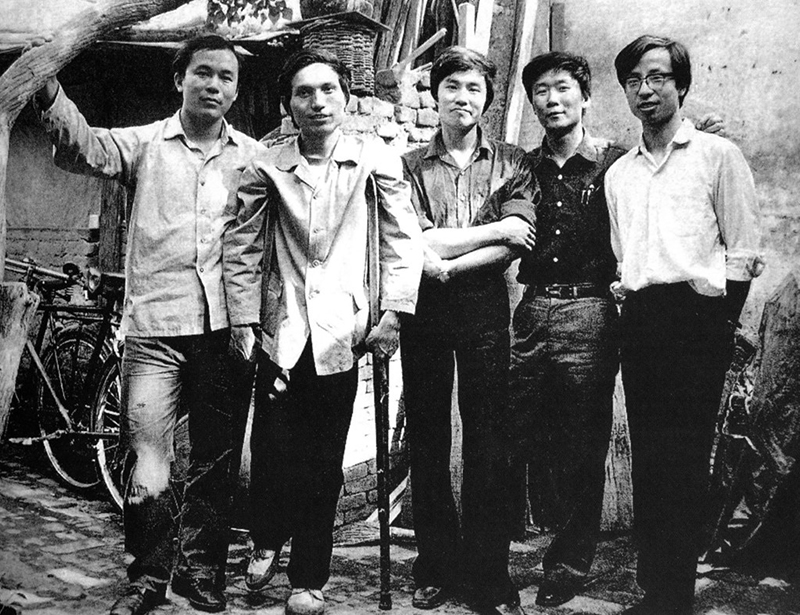 From left to right : Wang Keping, Ma Desheng, Yan Li, Qu Leilei and Huang Rui in Huang Rui's courtyard, 1980. Photograph by Joan Lebold Cohen. © Stars Art Foundation 
historical exhibitions
1979 September 27-28th, FIRST STARS ART EXHIBITION

An unauthorized exhibition hung on the gates of the National Art Museum of China in Beijing. (outlawed after two days)

1979 November 23rd- December 2nd, Beihai Park Stars Exhibition

A continuation of the First Stars Art exhibition hosted in Huafangzhai, the space of the Beijing Artists' Association. It attracted approximately 33,000 visitors. 

1980 August 24th - September 14th SECOND STARS ART EXHIBITION

National Art Museum of China, Beijing The National. Art Museum exhibition was the culmination of the Stars artists' aspirations. The act of presenting their work in the museum gave a certain credibility to the movement.
media
Wang Keping talking about The Stars Art Group
Language : Chinese with English subtitles
Jade le Masne de Chermont, Production : 10 Chancery Lane Gallery
the stars exhibition - 40th anniversary
press and other ressources